Monitor, Control and Service over the Internet
The
Illumience cloud software
service is unique in the lighting industry. Every Illumient light comes with built-in wireless connectivity which automatically sends real time information to Illumience. Data captured includes voltage and current readings for two independent solar panels, two independent load ports, batteries and battery temperature. For systems configured with wind support, voltage and current is captured for AC and DC inputs as well as turbine frequency. Over 24 other indicators are also sent to the cloud to monitor services.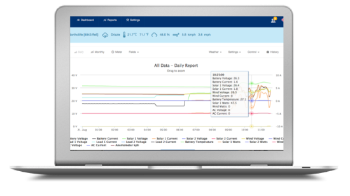 Illumience does a lot more than monitoring. Through Illumience you can set up and change lighting profiles and control all other aspects of the system. Predictive weather forecasting enables action to be taken to ride through periods of bad weather, by intelligently using lighting control and dimming to preserve battery power.

Validated installation with our smartphone app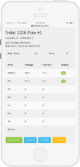 One of our key design features is to make this a system that requires no specialized expertise or training to install. Our smartphone Installer app lets an installer see the real time readings of over 14 measurements at the same time, an impossible thing to do with a meter in the field. This ensures that installations are properly done before the installer leaves the site.
Illumience is accessible from any Internet-connected device utilizing a modern browser, smartphone, or tablet. Data is stored in the Cloud to enable ongoing support, maintenance, and troubleshooting.